Looking for Used Honda Jazz? The official price is quite affordable!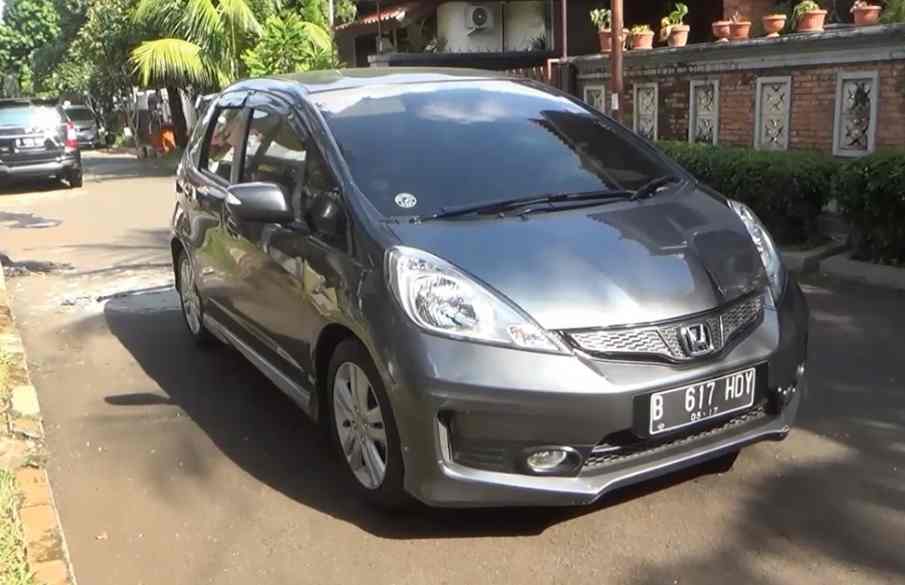 JBA - At the Tokyo Motor Show 2019, Honda finally released its latest Honda Jazz product, also known as the Honda Fit in Japan. The latest Honda Jazz model was named the All-New Honda Fit on Wednesday (10/23/2019).
At first glance the appearance of the latest All New Honda Fit is similar to the All-New Brio which is sold in Indonesia, so that makes the sporty impression that previously radiated disappear. This is because the corners of the design of the formerly sharp and sharp Honda Jazz have disappeared replaced by large and oval angles so that the appearance becomes more elegant and polite.
Part of the grille has changed. If the previous model is displayed with a firm and sporty lines. But now, the appearance of the grille has changed slightly 'bump' at the end of the hood.
"We have designed this latest car to be more compact to welcome the new era and the latest technology that has become the standard of developing other Honda cars," said the President Representative Director and CEO of Honda Motor Co. Ltd., Takahiro Hachigo, as reported by the Otoseken.com page.
However, if you are a current generation Jazz fan (GK5) with a sportier appearance, you don't need to worry. Because these units are still available at all Honda dealers around your house.
At present, Honda Jazz is priced starting at Rp 244.8 million to Rp 286.6 million On The Road Jakarta. whereas if you want to get a more affordable price, you can look for a used Honda Jazz as an alternative choice.
"Since it was launched in 2004 (GD3), the price of this used car is still quite sustainable. The demand is still stable, "explained Senior Manager of the Used Car Exchange of Mangga Dua WTC, Herjanto Kosasih, as reported by the Kompas.com page.
"Usually at the dealership, the Honda Jazz will not last long, some have even sold immediately," he explained again.
If you only have funds below Rp. 100, then the Honda Jazz that you can choose is the GD3 production from 2004 to 2008. However, considering that its age has reached more than 10 years, then you should prepare additional funds to repair some components of the car.
However, if you are interested in having a Honda Jazz GE8 from 2008 to 2014, then the funds you need to prepare are IDR 185 million.
Honda Jazz Price List
Jazz GD3
| | |
| --- | --- |
| Production Year | Price |
| 2004 | Rp 65 juta – Rp 75 juta |
| 2005 | Rp 70 juta – Rp 80 juta |
| 2006 | Rp 75 juta – Rp 85 juta |
| 2007 | Rp 80 juta – Rp 90 juta |
| 2008 | Rp 85 juta – Rp 95 juta |
Jazz GE8
| | |
| --- | --- |
| Production Year | Price |
| 2008 | Rp 120 juta – Rp 130 juta |
| 2009 | Rp 130 juta – Rp 140 juta |
| 2010 | Rp 140 juta – Rp 150 juta |
| 2011 | Rp 150 juta – Rp 160 juta |
| 2012 | Rp 160 juta – Rp 170 juta |
| 2013 | Rp 170 juta – Rp 180 juta |
| 2014 | Rp 175 juta – Rp 185 juta |
Jazz GK5
| | |
| --- | --- |
| Production Year | Price |
| 2014 | Rp 170 juta – Rp 195 juta |
| 2015 | Rp 175 juta – Rp 200 juta |
| 2016 | Rp 190 juta – Rp 210 juta |
| 2017 | Rp 210 juta – Rp 230 juta |
| 2018 | Rp 230 juta – Rp 250 juta |
| 2019 | Rp 250 juta – Rp 270 juta |
Sumber: Otoseken.com